Directed by Neil Jordan
Visual Effects Supervisor: Robert Legato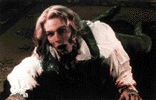 Visual Effects Produced by:

DIGITAL DOMAIN, Visual Effects Supervisor: Rob Legato
STAN WINSTON STUDIOS

INTERVIEW WITH THE VAMPIRE marked the first collaboration between Digital Domain and Stan Winston Studios, and their combined talent is clearly visible in the terrific effects for the film. Some of the clever techniques used for INTERVIEW include some of the best morphs on film ever (Claudia's resurrection), CG and composited backgrounds, and other digital techniques. My favorite effects shot in the film is Lestat's bleeding death sequence (pictured). A magical combination of animatronics, motion control and morphing was used to realize the powerful shot. Check out Cinefex 61.
Back to the 1994 Menu


. . VFX HQ Produced by Todd Vaziri . . http://www.vfxhq.com . . e-mail: tvaziri@gmail.com . .
All text Copyright © 1998 Todd Vaziri, unless otherwise noted