Directed by James Cameron
Visual Effects Supervisor: John Bruno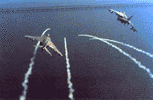 Visual Effects Produced by:

DIGITAL DOMAIN
CINESITE, Supervisor: Brad Kuehn
BOSS FILM STUDIOS, Supervisor: Neil Krepela
PACIFIC DATA IMAGES, Supervisor: Jamie Dixon
FANTASY II FILM EFFECTS, Supervisor: Gene Warren
STETSON VISUAL SERVICES, Supervisors: Mark Stetson, Robert Spurlock
LIGHT MATTERS
COMPUTER FILM COMPANY
PACIFIC TITLE DIGITAL
CIS HOLLYWOOD

Pyrotechnics Supervisor: Joe Viskocil
Mechanical Effects Supervisor: Thomas L. Fisher

Nominee, 1994 Academy Award / Best Visual Effects
Check out Cinefex 59, American Cinematographer September '94 and American Cinematographer December '94.

Digital Domain removed the Harrier's
actual missiles, animated CG missiles and
composited perfect CG smoke trails.





The miniature causeway is detonated
by miniature pyro fx legend Joe Viskocil
and augmented by CG missiles & trails.
Back to the 1994 Menu


. . VFX HQ Produced by Todd Vaziri . . http://www.vfxhq.com . . e-mail: tvaziri@gmail.com . .
All text Copyright © 1998 Todd Vaziri, unless otherwise noted