Directed by David Twohy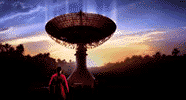 Visual Effects Produced by:

PACIFIC DATA IMAGES
AVAILABLE LIGHT LIMITED
DAVID B. SHARP PRODUCTIONS
4-WARD PRODUCTIONS
DIGITAL MAGIC
DREAM QUEST IMAGES
TODD AO DIGITAL IMAGES

Charlie Sheen stars in this suprisingly engaging film written and directed by David Twohy. THE ARRIVAL features Sheen as an astronomer who discovers an alien plot, only to be silenced by his superiors at NASA. The effects work brilliantly in this story; the highlight being Sheen's trip underground into a secret alien reactor. The entire sequence was filmed and edited with near perfection. PDI's CG aliens were creatively designed and animated with PDI's usual flair. A few composites near the end of the film fall flat, but for the most part, the effects for THE ARRIVAL succeeded with flying colors.

Pacific Data Images created THE ARRIVAL's
alien nemesis completely in CGI.


Available Light produced animation for
scense involving the alien imploder device.
THE ARRIVAL will not get nearly as much press as other summer sci-fi pictures (ahem, INDEPENDENCE DAY), but it is surely worth seeing.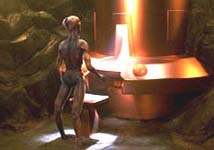 An interesting mix of effects was used for this scene. PDI's CGI alien (which
contained more than 300,000 polygons) was composited into miniatures
created by 4-Ward Productions, supervised by Robert Skotak.

Check out Cinefex 67.

Official Web Site: http://www.thearrival.com.





. . VFX HQ Produced by Todd Vaziri . . http://www.vfxhq.com . . e-mail: tvaziri@gmail.com . .
All text Copyright © 1998 Todd Vaziri, unless otherwise noted