Directed by Jan De Bont
Visual Effects Supervisor: Stefen Fangmeier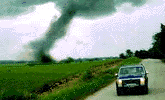 Visual Effects Produced by:

INDUSTRIAL LIGHT & MAGIC (~300 shots)

Screen Graphics Created by:

BANNED FROM THE RANCH ENTERTAINMENT
Nominee, 1996 Academy Award / Best Visual Effects

ILM once again re-invents visual effects. A wonderful marriage of CG animation and compositing, TWISTER represents yet another milestone in ILM's incredible career. None of the compositing problems that were present in JUMANJI appear in the film. Color levels are all consistent, and the match-move work is extraordinary. Remember when a hand-held composite was an incredible challenge? TWISTER features near-perfect composites in hand held shots through car windshields. The only things similar between JUMANJI and TWISTER are the cheesy story and flat characters.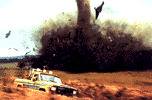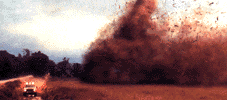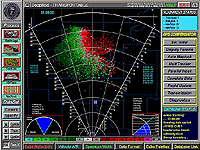 This is a screen shot of one of the computer displays used by the hero tornado chasers. All of the on-screen graphics for the film were created by Banned from the Ranch Entertainment.
Check out Cinefex 66 and American Cinematographer May '96 and the Spotlight page.
Back to the 1996 Menu


. . VFX HQ Produced by Todd Vaziri . . http://www.vfxhq.com . . e-mail: tvaziri@gmail.com . .
All text Copyright © 1998 Todd Vaziri, unless otherwise noted