Behind the Scenes
FLUBBER - FX Credits - FX Review - Behind the Scenes - Stills
Once the storyboards were approved, it was time for shooting. In FLUBBER's case, photographing the background plates--shots that will eventually include effects elements--was part of the first unit process, since star Robin Williams would be directly handling the Flubber in numerous scenes. In a second unit situation, multi-million dollar talent, the first unit DP and the film's director are usually absent, allowing the effects artists to completely supervise the shooting of the background plates.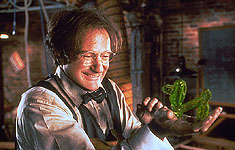 Williams interacts with Flubber in one of the countless first unit shots for the film.

ILM co-supervisor, Sandra Ford Karpman, who has served as CG supervisor on DIE HARD 2, THE MASK and CONGO, described the ILM team's role in the first unit shooting of background plates: "Since those shots featured Robin interacting with the Flubber, they were under the control of the director and Dean Cundey. Tom [Bertino] and I would stand back behind the camera and just try and not let things get too out of control, knowing full well that we would eventually have to place the Flubber in Robin's hands. We couldn't just stand up and shout out suggestions, or say 'don't do that motion, because of this reason...'"

Robin Williams, who has become an ILM film veteran with his performances in HOOK and JUMANJI, interacted with nothing, as the Flubber would be added by ILM months later. This imagininative performance is sometimes difficult for actors, who are used to playing off existing counterparts. Karpman remarked, "Fortunately, Robin is an incredible 'visual effects' actor. You really didn't have to tell him about eyelines or where to look, because he could keep his eyes focused on an object that didn't really exist. He was incredible."

Bertino concurred: "It wasn't as difficult as it could have been, largely due to Robin's understanding of the process." Williams penchant for improvisation made the visual effects crew's attempts at control over shooting even more challenging. In most cases, when it comes to shots involving CG interaction with humans, everything is planned and executed in accordance with the storyboards. But, as Bertino commented, "With any Robin Williams film, you have to expect a certain level of
---
"FLUBBER basically changed all the rules that we were accustomed to."
Sandra Ford Karpman
---
improvisation, which can make things tough for the visual effects department because usually everything needs to be planned out in detail beforehand." Bertino and Williams would talk extensively before shooting about the gags that Williams would perform with the Flubber.

Once all the background plates were shot, it was up to ILM to create and animate Flubber into those sequences. In developing the Flubber models, Karpman said that a new methodology had to be created: "FLUBBER basically changed all the rules that we were accustomed to. Most of our CG creatures, like our dinosaurs, are made of out b-spline patches. You form the dinosaur out of this wireframe, and you animate it. Because throughout the movie, a dinosaur always has two arms, two legs and a head, you can pretty much build the model once and use it in different situations. With FLUBBER, the goo could pop out arms, pop out heads, change its shape into countless variations, go back to a blob shape... so when it came time to make it in the computer, we knew we couldn't make a traditional b-spline model for Flubber."

A new method needed to be used. Karpman noted, "We came up with a new method in making the models, and the best metaphor for its creation would be parallel to how blobs of mercury react when they touch each other. With the way we built the models, if you want an arm to pop out, you would just shape the mercury blobs in a certain way, to make an arm appear from the big blob. We went down a completely, totally new path for creating and animating our CG models for FLUBBER with this technique, let alone how it was rendered."





. . VFX HQ Produced by Todd Vaziri . . http://www.vfxhq.com . . e-mail: tvaziri@gmail.com . .
All text Copyright © 1998 Todd Vaziri, unless otherwise noted