Directed by Peter Weir
Visual Effects Supervisor: Micheal J. McAlister

Visual Effects Produced by:

CINESITE HOLLYWOOD
VFX Supervisor: Brad Kuehn

MATTE WORLD DIGITAL
VFX Supervisor: Craig Barron

COMPUTER FILM COMPANY/Los Angeles

IMAGINARY FORCES

AVAILABLE LIGHT LIMITED

EDS

STIRBIR VISUAL NETWORK
Abbreviated Review by Todd Vaziri
tvaziri@gmail.com>
Jim Carrey stars in the newest Peter Weir film, THE TRUMAN SHOW, featuring plenty of visual effects supervised by Micheal J. McAlister, who previously supervised such films as WATERWORLD and DIE HARD 2.
Many of the effects surround the creation of Seahaven, the fictional tv town in which Carrey lives. In a series of terrific wide shots, the town is revealed to be a chunk of land surrounded by water. Most of these shots are convincing, albiet obviously composite shots. Less convincing, although certainly eye-catching is the amazing pullback shot, where the camera pulls away from the town, to reveal the town's true nature--a domed studio that is so large, it is visible from space. The move, created with live-action, miniature, digital 2D and 3D techniques, is very cheesy, without the sense of awe as the pullback shot in MEN IN BLACK inspired.
Among the visual effects are a plethora of invisible composites, where skies are enhanced or replaced, or entire buildings are produced in the virtual world. In a particularly incredible shot, Carrey walks through downtown as the camera cranes and rotates around him. The shot is incredibly clean--audiences will never realize that the background buildings never really existed on the set.
The occasionally cheesy effects of THE TRUMAN SHOW are not distracting, in that the film's narrative core does not rely solely on the effects, but on innovative writing and direction.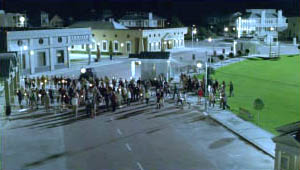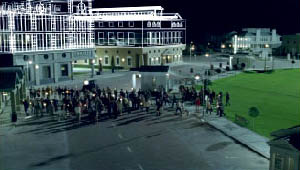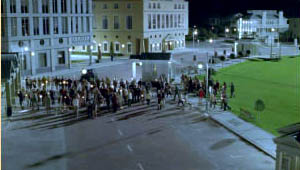 Matte World Digital produced numerous effects sequences for THE TRUMAN SHOW, including this digital set extension. Take a look at more of Matte World's work at http://www.matteworld.com/truman.html

Images Copyright 1998 Paramount Pictures, All Rights Reserved.
Check out Cinefex 75.
Official Web Site: http://www.trumanshow.com
Back to the 1998 Menu


. . VFX HQ Produced by Todd Vaziri . . http://www.vfxhq.com . . e-mail: tvaziri@gmail.com . .
All text Copyright © 1998 Todd Vaziri, unless otherwise noted