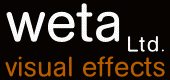 WETA DIGITAL

contact info:
PO Box 15 208
9-11 Manuka St. Miramar
Wellington, New Zealand
Phone: 011 +64 4 380 9080
Fax: 011 +64 4 380 9010

web site:
http://www.wetafx.co.nz

Founded by filmmaker Peter Jackson, Weta Ltd. has two divisions - Weta Digital and Weta Workshop, both located in Wellington, New Zealand.

On the digital side, Weta has blown away the world with their spectacular images, especially with 1996's amazing THE FRIGHTENERS, a 570-shot visual extravaganza featuring a great deal of CG animation and creative compositing. THE FRIGHTENERS won a 1996 VFX HQ Award for Best Visual Effects Surprise.

Weta also provided visual imagery for The Ride sequence in 1997's CONTACT. The Weta Workshop is a creature workshop that has provided makeup and puppet effects for TV's "Hercules" and "Xena" and Jackson's own HEAVENLY CREATURES.





     1997 . CONTACT
     1996 . THE FRIGHTENERS
     1995 . HEAVENLY CREATURES
            JACK BROWN, GENIUS
            FORGOTTON SILVER
     
    





. . VFX HQ Produced by Todd Vaziri . . http://www.vfxhq.com . . e-mail: tvaziri@gmail.com . .
All text Copyright © 1998 Todd Vaziri, unless otherwise noted