Spotlight : March 1996
---

The Academy Awards
Congratulations to the folks over at Rhythm & Hues for their Academy Award for achievement in visual effects for the film, BABE. Also, congrats to Pixar Animation Studios for their special achievement Oscar for their wonderful work in TOY STORY. John Lasseter and his very talented group at Pixar should be praised not only for the technical artistry they brought to the film, but also for the very human emotions the film evokes.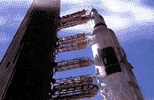 Secondly, the Academy definitely needs to get its act together. Because of cryptic, idiotic voting procedures (now posted on the VFX HQ), only two nominees were announced, BABE and APOLLO 13. Then, for the video clips of each film, the Academy picks extremely inappropriate clips. For APOLLO 13, they presented about 15 seconds of KC-135 footage... you know, the Vomit Comet plane that simulates zero gravity for a limited amount of time. And that's it. No miniature photography... no motion control camera work, no CG artistry, no greenscreen photography... nothing. Just the Vomit Comet. What a joke. Rob Legato's visual effects team should have been properly recognized.
As for BABE, they only showed a clip from the film, with presenter Will Smith exclaiming, "the filmmakers do not want to give away their secrets." If that was true, why is Rhythm & Hues having full page ads in Cinefex and American Cinematographer detailing the CG process step by step? No footage at all of animators working long hours in front of monitors? Let's face it: the Academy sucks. They only care about their precious actors and directors. If you wish (heh), you can visit the Academy Awards site at http://guide.oscars.org.
---
Back to the Spotlight Main Menu


. . VFX HQ Produced by Todd Vaziri . . http://www.vfxhq.com . . e-mail: tvaziri@gmail.com . .
All text Copyright © 1998 Todd Vaziri, unless otherwise noted