Spotlight : June 1997
---

Effects Briefs
By Todd Vaziri
For various reasons including budget overruns, troubled productions, or fear of competition, many visual effects films that were slated to be released this summer have now moved into the 1997 fall movie season. What was once to be a jammed-packed summer lineup of sci-fi and action flicks has turned into a moderately interesting summer season, with an increasingly interesting fall season.

The big news is that James Cameron's new film, TITANIC, will be released on December 19, over six months later than originally slated. An interesting side effect to this announcement is that Cameron certainly has better Academy Award chances (in terms of writing and directing Oscars). That is, of course, the film is as good as everyone is expecting (and hoping). The lion's share of effects for the film are being handled by by Digital Domain, while visual effects work that has been added since principal photography wrapped has been handed to VIFX, CIS Hollywood, and Industrial Light & Magic.
Another of Fox's big sci-fi summer releases was pushed into the fall; ALIEN RESURRECTION will see a November release date. Fox made the move based on an already crowded lineup of summer sci-fi movies; visual effects are being handled by effects houses Blue Sky Studios and the French house Dubois. Also sharing that month will be the delayed STARSHIP TROOPERS (featuring effects from Tippett Studio, Sony Pictures Imageworks, et. al.), Paul Verhoeven's enormous new film. In addition to these two major films, the new James Bond film, TOMORROW NEVER DIES will see a release in November, as well.
This is all assuming that none of these films' release dates are pushed back even further.
Links: TITANIC, ALIEN RESURRECTION, STARSHIP TROOPERS
Sometime during the day of May 27, hackers weaseled their way into THE LOST WORLD's web site. I was able to make a screen shot of the home page before the brass at MCA/Universal realized the break-in. If you logged on to THE LOST WORLD site that day, you would have seen this: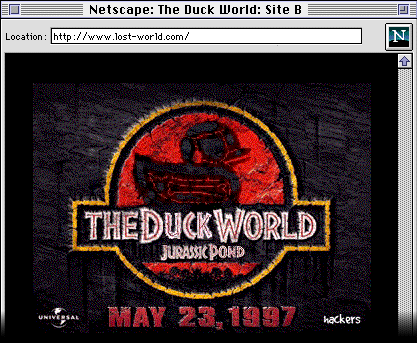 Hey, ILM, interested in making CG ducks? :)

And this screen shot finally answers the question... Yes, I use a Mac.

Link: THE LOST WORLD. Special thanks to JB.



---
Back to the Spotlight Main Menu


. . VFX HQ Produced by Todd Vaziri . . http://www.vfxhq.com . . e-mail: tvaziri@gmail.com . .
All text Copyright © 1998 Todd Vaziri, unless otherwise noted