Spotlight : July 1997
---

Warner Digital Shuts Down
By Todd Vaziri
The visual effects industry proved to be as volatile and risky as ever, as a major effects house announced that it was closing its doors. Warner Bros. announced in June that they would be shutting down their in-house visual effects production company, Warner Digital, the effects house responsible for some brilliant visual effects work in four high-profile effects films over the past two years. The shutdown would be effective on July 31.
Warner Digital employed around 150 people, who will all be looking for new jobs in the industry. The company, which provided amazing imagery to such films as ERASER, MARS ATTACKS! and BATMAN & ROBIN, was axed for a number of reasons, mainly due to the difficulty of successfully operating an upstart effects house, and Warner's plan to use Warner Digital solely for Warner Bros. films and projects.
In early 1995, Warner Bros. was beefing up its post-production facilities, developing digital effects and backgrounds for animation projects such as "Animaniacs" and "Tiny Toons." With 1995's BATMAN FOREVER and THE LITTLE PRINCESS, Warner Bros.' group of digital artists and engineers became Warner Brothers Imaging Technology (WBIT), and made a huge jump into the world of feature film digital effects.
For the Batman film, WBIT created a fully CGI Gotham skyline, which was featured prominently in the film. Following the success of the film, WBIT became Warner Digital, and contributed effects to 1996's ERASER and MARS ATTACKS. For ERASER, Warner Digital created the smoke effects surrounding the film's powerful rail-gun. Artists created lovely, subtle smoke rings that appeared as the gun fired, and dissipated realistically. The shots were so clean, audiences didn't even realize they were witnessing a post-production effect. Warner Digital also created the x-ray vision shots of the rail gun, as well.

Another giant leap was made by Warner Digital with their contribution to the Martian flying saucers in MARS ATTACKS!. Over 150 shots of the Martian starships appeared on screen, including some wonderful, long sequences (the title sequence handled by Warner Digital was over 5,000 frames long). Michael Fink, who has an extensive visual effects background, supervised the Warner Digital effort.
Two more huge projects were tackled by the effects house in 1997, including a large number of shots in Joel Schumacher's BATMAN & ROBIN and Robert Zemeckis' CONTACT. Their last project turned out to be contributing shots to the Mel Gibson film, CONSPIRACY THEORY, to be released later this summer. On June 10, employees were notified of the company's shutdown.
Obviously, the quality of work was not the reason for Warner Digital shutting its doors. Warner Bros. banked heavily that Warner Digital could supply the studio with visual effects, and become financially successful. Warner Bros. underestimated the complexity of the visual effects industry; upper management naively believed that they could slip into success quickly and easily.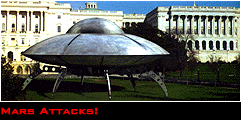 The parent company also severely limited the effects house's moneymaking and creative capabilities by only sanctioning Warner Bros. projects to the company. All of the films that featured visual effects by Warner Digital were Warner Bros. movies. Consequently, there existed some periods of down time, according to the official word from Warner Bros. at the company; Warner claimed this to be the top reason for the shutdown.
Nearly every major visual effects house in the United States will work on projects from a wide range of studios. They are not handcuffed by a parent company; they work on films produced by Paramount, Fox, Universal, New Line, and others, without any conflict of interest.
In addition to these problems, key personnel at Warner Digital left the company, not to be replaced. The original VP of Production, Ellen Somers, left in early 1997, as did the Senior VP, Tim Sarnoff (who was a driving force in Warner Digital's creation). Since then, Michael Fink, who served as senior visual effects supervisor since 1995, was essentially put in charge of the entire company. The shakeup's effects cannot be underestimated; the company was running without the kind of leadership necessary to run a successful visual effects house.

Over the past few years, major Hollywood studios have been investing in visual effects companies. Acquiring major interests in these effects houses, studios hope to bring down post-production costs that have been steadily rising over the past decade. Walt Disney studios recently purchased Hollywood effects house Dream Quest Images, shutting down its own, in-house company Buena Vista Visual Effects. Dreamworks SKG became partners with Pacific Data Images, and Twentieth Century Fox recently acquired a major interest in VIFX.
Warner Bros. is now without an in-house visual effects facility, and will have to do what just about every other motion picture studio has to do: bid their projects out to competing effects houses. Warner Bros. realized that starting a visual effects house from scratch is not an easy project. Only a few new upstart houses have flourished, the best example being the 1994 launch of Digital Domain. However, even with the massive amount of visual effects films being released by Hollywood, the visual effects industry is as complex and risky as it's ever been.

Links: BATMAN FOREVER, MARS ATTACKS!, ERASER, CONTACT, BATMAN & ROBIN, Warner Digital Studios.
---
Back to the Spotlight Main Menu


. . VFX HQ Produced by Todd Vaziri . . http://www.vfxhq.com . . e-mail: tvaziri@gmail.com . .
All text Copyright © 1998 Todd Vaziri, unless otherwise noted