back to Professional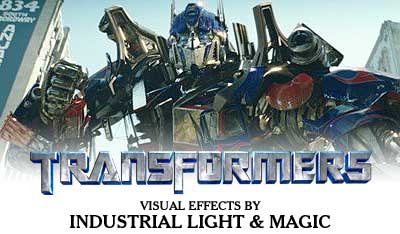 Interview with Todd Vaziri
VisualFXBlog interviewed me, Todd Vaziri (sequence supervisor at ILM) about the work ILM accomplished for TRANSFORMERS.
Update: link now works. Yay.
"Transformers" Critical Reviews
A collection of film critics' reviews of TRANSFORMERS, specifically commenting on the visual effects.
"Transformers" Wins Four VES Awards
VES Award Winner for Best Compositing (Pat Tubach, Beth D'Amato, Todd Vaziri, Mike Conte), plus three other wins.
"Transformers" Posts on FXRant
All posts concerning TRANSFORMERS on my blog, FXRant
Full ILM Credits For "Transformers"
The complete ILM credits, as they apperared in the end credits, for TRANSFORMERS

TRANSFORMERS Copyright © 2007 DREAMWORKS LLC and PARAMOUNT PICTURES. All Rights Reserved.
back to Professional