back to Professional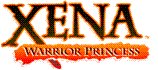 For Flat Earth Productions, I served as digital composite artist on their shows, "Xena: Warrior Princess" and "Hercules: The Legendary Journeys," two wildly popular shows, produced by Renaissance Pictures and Studios USA.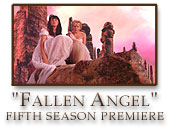 Our first show of the fifth season for "Xena" was quite a challenge - over 270 visual effects shots for a single hour of television, a new television record (even more than any previous episode of "Star Trek" or "The X-Files"). We were tasked to produce all of these shots in a five week period, while preparing for other "Xena" and "Hercules" shows.

Under the supervision of VFX Supervisor Doug Beswick, veteran of such visual effects classics as THE EMPIRE STRIKES BACK, TERMINATOR and EVIL DEAD II, the Flat Earth team embarked on the enormous task. I handled dozens of shots for the single episode, including several complicated, multi-layered composites depicting the expansive, eerie nether-world between heaven and hell. Maintaining a consistent visual style between the 270 shots was the challenge for "Xena"'s Renaissance vfx supervisor, Harrison Ellenshaw.

With 2D Supervisor Mark Tamny, the 2D composite team came up with several methods to create realistic clouds, rock formations, even character animation in the 2D world. For many shots, actors with costume-fitted wings appear to be flying through the air, suspended on wires against a bluescreen. In some cases, I painted out the real-life wings on the actor, and created new, more dynamic 2D animation to enhance the wings, giving them a full flap cycle.

Early in the show, Xena must walk through the 'fire of purification,' and emerges from a cave completely engulfed in flames. The five-shot sequence was filmed with actress Lucy Lawless without any fire at all. Using stock elements and specially photographed fire elements, I composited layers of fire, heat distortion and interactive light onto Xena's body, making her appear as though she is surrounded by fire.

Later episodes of "Xena" include even more incredible imagery, including an extensive swordfight between battling skeletons, vast, expansive matte paintings, and much, much more.
Todd Vaziri
tvaziri@gmail.com
home
Professional
FXRant Blog
Twitter @tvaziri
---
MEDIA COVERAGE OF
VFX WORK ON
XENA: WARRIOR PRINCESS

Read an interview with Todd Vaziri and 2D Supervisor Mark Tamny in VFXPro.com
plus
Read an interview with VFX Supervisor Doug Beswick in VFXPro.com


Read the "Xena" story featured on CNN.

The visual effects of "Xena: Fallen Angel" was featured in a story in USA Today.


Read how we used tools from Puffin Designs to produce the show's visual effects.
---

XENA: WARRIOR PRINCESS
Fifth Season
Visual Effects by
FLAT EARTH PRODUCTIONS
Visual Effects Supervisor
DOUG BESWICK
Visual Effects Coordinators
OMAR MCCLINTON
RUSSELL JOHNSON
2D Supervisor
MARK TAMNY
3D Supervisors
MARK KOCHINSKI
EVERETT BURRELL
For Renaissance Pictures
Visual Effects Supervisor
HARRISON ELLENSHAW
Xena: Warrior Princess,
©1999 Studios USA