SPEED 2 Home Page - The Ship - The Prop - The Tanker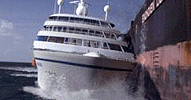 Bad guy Willem Dafoe steers the cruise ship directly into a massive barge, causing the ship to scrape along its side in this dramatic sequence. A CGI model was created for the cruise ship, and the animation and match-moving in this sequence is fantastic, although the interaction between the water and the ship didn't look 100% convincing.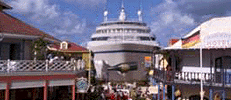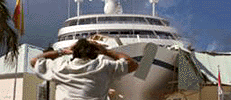 Eventually, the ship crashes through a dock, wreaking havoc and causing a ton of destruction. The sequence was executed with both full-scale mockups and a CGI models of the ship and debris.

SPEED 2 Home Page - The Ship - The Prop - The Tanker



. . VFX HQ Produced by Todd Vaziri . . http://www.vfxhq.com . . e-mail: tvaziri@gmail.com . .
All text Copyright © 1998 Todd Vaziri, unless otherwise noted